Ford SUV models have become increasingly popular in recent years, offering a versatile and spacious option for families and individuals alike. With a wide range of models available, Ford provides options for every need and preference. This comprehensive guide will explore the various Ford SUV models in Canada, from compact to full-size.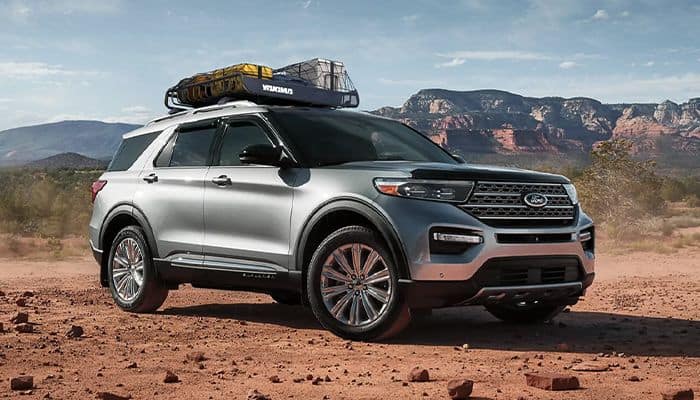 Ford SUV models by size
Small Ford SUV models
Ford offers a range of small SUV models perfect for those seeking a compact and efficient option. The Ford EcoSport is one such model, offering a stylish design and impressive fuel efficiency. With its compact size, the EcoSport is ideal for navigating city streets and fitting into tight parking spaces. Another popular small Ford SUV is the Ford Escape, which delivers a balance of comfort, performance, and technology. The Escape offers ample cargo space and advanced safety features, making it a practical choice for daily commuting and weekend adventures.
Ford compact SUV models
For those looking for a slightly larger option, Ford also offers a variety of compact SUV models. The Ford Edge is a standout in this category, boasting a sleek design and powerful performance. The Edge provides a comfortable and connected driving experience with its spacious interior and advanced technology features. Another notable compact SUV model is the Ford Flex, known for its unique boxy design and versatile seating options. The Flex offers a generous amount of cargo space and a smooth ride, making it an excellent choice for families and those who require extra storage capacity.
Ford SUV electric models
In response to the growing demand for electric vehicles, Ford has introduced electric vehicles to its SUV lineup. One such model is the Ford Mustang Mach-E, an all-electric SUV that combines the iconic Mustang performance with zero emissions. The Mustang Mach-E offers impressive acceleration, a long electric range, and advanced technology features. With its sleek design and sustainability focus, the Mustang Mach-E is an exciting addition to Ford's SUV offerings. Another electric option is the Ford Escape Plug-in Hybrid, which combines the benefits of an electric vehicle with the versatility of a traditional SUV. The Escape Plug-in Hybrid offers a range of driving modes and the ability to charge its battery for electric-only driving, providing increased efficiency and reduced emissions.
Ford SUV models in Canada
ord SUV models are widely available in Canada, with dealerships across the country offering a range of options. Whether you're looking for a small SUV for city driving or a full-size SUV for larger families or towing needs, Ford has you covered. In addition, Ford also offers full-size SUVs such as the Ford Explorer and Ford Expedition. These larger SUVs provide spacious interiors, powerful performance, and advanced safety features. With their towing capabilities and ample cargo space, the Explorer and Expedition are well-suited for family vacations and outdoor adventures.
In conclusion, there is a comprehensive range of SUV models in Canada, catering to various needs and preferences. Ford has an SUV for every lifestyle, from small and compact options like the EcoSport and Escape to larger like the Edge, Explorer, and Expedition. Introducing electric models such as the Mustang Mach-E and Escape Plug-in Hybrid further expands Ford's SUV lineup, providing environmentally-friendly options without compromising performance. Ford SUVs are worth considering whether you're looking for a stylish city cruiser or a capable family vehicle. Visit your local Ford dealership to explore the different versions and find the perfect SUV for you.
Blog News at:
A Trusted Truck Dealership Offers More Benefits Than Buying from a Private Seller