What is the best version of the Ford Edge Canada?
If you live in Sault Ste Marie or Blind River, Ontario, you're probably no stranger to the Ford Edge. This is a popular option midsize SUV in Canada, and one of the most sought-after trims is the Ford Edge SEL. This trim level offers a good balance of value and features. It comes equipped with a range of standard features such as a power liftgate, dual-zone automatic climate control, and Ford's Co-Pilot360 suite of driver-assistance technologies. Additionally, the SEL trim includes various optional packages, such as the Cold Weather Package, which adds heated front seats and a heated steering wheel.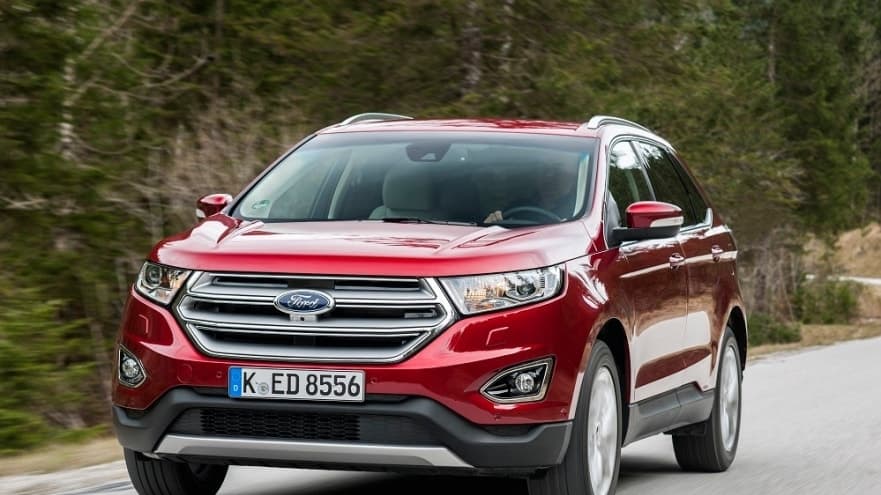 For those seeking a more premium experience, the Titanium version is a top choice. This trim level includes all the features of the SEL trim and adds luxurious touches like leather-trimmed seats, a Bang & Olufsen premium sound system, and enhanced interior ambient lighting. The Titanium trim also offers additional options, such as the Technology Package, which includes features like adaptive cruise control with stop-and-go, evasive steering assist, and voice-activated navigation.
Midsize SUV
If performance is a priority, the Ford Edge ST midsize SUV is the sportier variant of the lineup. This trim level boasts a more powerful 2.7-liter V6 engine that delivers 335 horsepower and 380 lb-ft of torque. It also features a sport-tuned suspension, larger brakes, and unique styling cues such as a distinctive grille and dual exhaust outlets. The Edge ST offers various options, including performance brake pads and summer-only tires for enhanced handling.
The Ford Edge may not be you if you're looking for a midsize SUV hybrid, as it has not yet come in this version. Ultimately, the best version of the Ford Edge in Canada will depend on your specific needs and budget. Take the time to consider what features are most important to you, whether it's comfort, technology, or performance, and test drive different trims to find the one that suits you best. It's always a good idea to consult with a Ford dealership or speak with an automotive expert who can provide personalized recommendations based on your individual requirements.
What is the fuel consumption of the Ford Edge?
The Ford Edge's fuel consumption is impressive, thanks to its efficient engine and advanced technology. With its modern lineup of engines, including the EcoBoost options, the Ford Edge truck delivers a balance of power and fuel efficiency.
For example, the 2.0L EcoBoost engine available in the Ford Edge truck offers a notable combination of performance and fuel economy. This engine utilizes direct fuel injection and turbocharging to optimize power output while maximizing fuel efficiency. The result is a vehicle that provides ample acceleration and power when needed while still maintaining respectable fuel consumption.
Additionally, Ford has incorporated various fuel-saving technologies into the Edge, such as Auto Start-Stop. This feature automatically shuts off the engine when the vehicle comes to a stop, such as at traffic lights or in heavy traffic, and restarts it when the driver releases the brake pedal. This technology helps conserve fuel and reduce emissions by reducing idle time.
Furthermore, the Ford Edge offers different drive modes, including EcoMode, which optimizes various vehicle systems to maximize fuel efficiency. In EcoMode, the transmission shifts earlier and the throttle response is adjusted to promote smoother and more economical driving.
The Ford Edge's fuel consumption is commendable, thanks to its efficient engine options, fuel-saving technologies, and intelligent drive modes. However, it is important to note that actual fuel consumption can vary depending on driving conditions, individual driving habits, and other factors. It is always recommended to consult the vehicle's official fuel efficiency ratings and perform regular maintenance to maximize fuel economy.
What does Ford Edge mean?
The term "Edge" in Ford Edge signifies the vehicle's unique selling points and characteristics. It represents the idea of pushing boundaries and standing out from the crowd. The Edge embodies elegance, power, and advanced technology, making it a top choice among SUV enthusiasts.
The name "Edge" also reflects the vehicle's design philosophy. The Ford Edge features a sleek and aerodynamic exterior, with sharp lines and distinctive features that give it a bold and dynamic look. The spacious and well-appointed interior offers comfort and convenience for drivers and passengers.
Additionally, the Ford Edge midsize SUV offers a range of cutting-edge features and technologies that enhance safety, performance, and connectivity. These include advanced driver-assistance systems, such as lane-keeping assist and adaptive cruise control, and a user-friendly infotainment system with smartphone integration.
To illustrate further, let's consider an example. Suppose a customer wants a reliable, stylish, and technologically advanced SUV. In this case, the Ford Edge would be an excellent choice. With its sleek design, comfortable interior, and advanced features, the Edge provides a seamless driving experience that combines performance and luxury.
In conclusion, the term "Ford Edge" refers to a mid-size crossover SUV that embodies the concept of pushing boundaries and standing out from the crowd. It represents a vehicle that combines elegance, power, and advanced technology to provide a unique driving experience for consumers in Sault Ste Marie and Blind River, Ontario, in search of versatility and style.
Car Features Review:
Ford Edge Engine, Towning Capacity & Vacation Trips
Step by Step to Update Ford Sync
Nissan Tires in Canada: Tips, Tricks, and FAQs for Car Enthusiasts