What engine does the Edge truck have?
The Ford Edge truck has a powerful and reliable engine that provides optimal performance and efficiency. The specific engine with the Edge truck may vary depending on the model and trim level chosen.
For instance, the base model of the Edge truck typically comes with a standard 2.0-liter EcoBoost engine. This turbocharged engine delivers a balance of power and fuel efficiency, making it suitable for daily commuting and light towing needs. It offers responsive acceleration and smooth performance on the road.
On the other hand, for those seeking more power and capability, the Edge truck also offers an available 2.7-liter EcoBoost V6 engine. This midsize SUV engine is known for its impressive horsepower and torque, making it ideal for towing larger loads or for drivers who prefer a more spirited driving experience.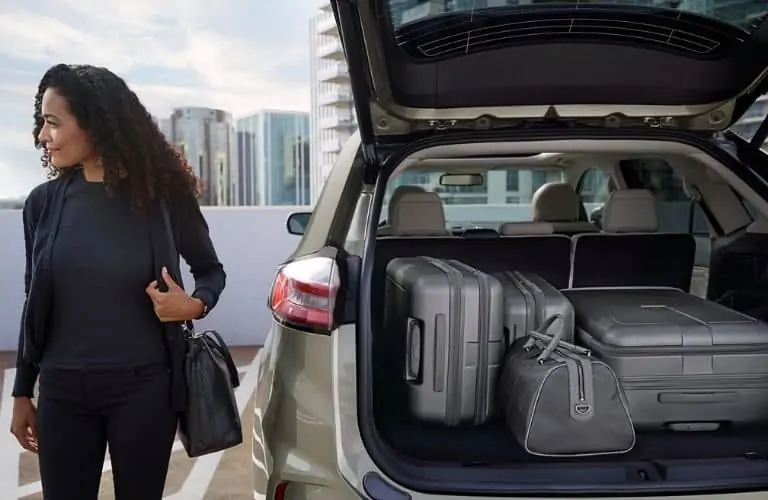 These engines are engineered with advanced technologies such as direct fuel injection, turbocharging, and variable valve timing to optimize performance and fuel efficiency. They are also paired with a smooth-shifting automatic transmission, ensuring seamless transitions between gears.
It's important to note that engine availability may vary based on the specific trim level and optional packages chosen. Therefore, it is recommended to consult with a dealership like Highland Ford in Sault Ste Marie, near Blind River, Ontario, Canada
or review the official manufacturer's website for the most accurate and up-to-date information on the engine options available for the Edge truck.
What is the Ford Edge Truck Towing Capacity?
The Edge is a popular Ford midsize SUV in Canada known for its sleek design, comfortable interior, and impressive performance. When it comes to towing capacity, the Ford Edge is no exception. Its powerful engine and advanced towing capabilities make it a great choice for those needing to tow trailers, boats, or other heavy loads.
The towing capacity of the Ford Edge varies depending on the engine and drivetrain options. The standard engine for the Edge is a 2.0L EcoBoost® four-cylinder engine, which can tow up to 1,500 pounds, which is ideal for smaller trailers or lightweight equipment.
Ford Edge EcoBoost V6 Engine
For those who require more towing power, the Ford Edge Truck offers an available 2.7L EcoBoost® V6 engine. With this engine, the towing capacity increases significantly to a maximum of 3,500 pounds, suitable for larger trailers, boats, or heavier loads. There is also a Ford Edge midsize SUV Hybrid available.
It's essential to remember that the towing capacity of the Edge Truck also depends on other factors, such as the type of trailer hitch, the weight distribution, and the payload capacity. It is recommended to consult the vehicle's owner's manual or contact a Ford dealership for specific towing capacity information based on your individual needs.
Let's consider an example to put the Ford Edge's towing capacity into perspective. Imagine you want to tow a small camper trailer that weighs around 2,000 pounds. With the standard 2.0L EcoBoost® engine, the Edge truck can easily handle this load. However, if you plan on towing a heavier boat or larger camping trailer that weighs around 3,500 pounds, you would need to opt for the available 2.7L EcoBoost® V6 engine.
In conclusion, the Ford Edge Truck offers a range of towing capacities depending on the engine and drivetrain options. Whether you need to tow a small trailer or a heavier load, this Ford midsize SUV has you covered with its powerful engines and advanced towing capabilities.
How many seats does the Ford Edge Truck have?
The Edge truck is a popular mid-size SUV that offers ample passenger seating. It can accommodate up to five people, including the driver, comfortably. The base model typically has two front seats and a three-person bench in the second row. However, some higher trim levels offer to replace the bench seat with two individual captain's chairs in the second row, reducing the seating capacity to four.
For instance, the Ford Edge SEL and Titanium trims offer replacing the second-row bench seat with two captain's chairs. This configuration provides additional comfort and convenience for passengers, allowing more accessible access to the third row and increased legroom.
It is important to note that the Edge truck does not offer a third-row seating option. If you require a vehicle with more seating capacity, Ford offers other SUV models, such as the Ford Explorer or Ford Expedition, which can accommodate seven to eight passengers.
In summary, the Ford Edge typically has a seating capacity of up to five people, with the option of reducing it to four with the availability of captain's chairs in the second row.
How many suitcases fit in Ford Edge?
The Edge truck is a popular midsize SUV in Canada that offers ample space for passengers and cargo. When it comes to suitcases, the number of suitcases that can fit in a Edge will depend on various factors, such as the size of the suitcases, the seating configuration, and whether the rear seats are folded down or not.
In its standard configuration, the Ford Edge offers a cargo capacity of 39.2 cubic feet behind the second row of seats, meaning that it can comfortably accommodate several suitcases of different sizes.
For instance, if we consider average-sized suitcases with dimensions of around 24 inches in length, 16 inches in width, and 10 inches in height, you can typically fit about 4-5 suitcases in the cargo area of the Ford Edge without folding down any rear seats.
Ford Edge Cargo Space
However, if you need to carry more suitcases or larger items, the Edge provides flexibility with its folding rear seats. You can significantly increase the cargo space by folding down the second-row seats. With the second-row seats folded down, the Ford Edge midsize SUV offers a maximum cargo capacity of 73.4 cubic feet, allowing you to accommodate more suitcases or even items with greater dimensions.
It's important to note that these numbers are approximate and can vary depending on the specific model year and trim level of the Ford Edge. It's always a good idea to consult the vehicle's specifications or physically test the space to ensure it meets your specific needs.
The Ford Edge offers a generous amount of cargo space, allowing you to fit multiple suitcases comfortably. The exact number will depend on the size of the suitcases and whether the rear seats are folded down.
Car News at:
Step by Step to Update Ford Sync
Exploring the Tesla Model Range, Performance and Efficiency