Interior Features of the Ford Edge: Mid-Size SUV Style & Comfort
When it comes to mid-size SUVs, the Ford Edge is a standout choice. With its sleek design, powerful performance and advanced technology it is a Ford Canada Vehicle favourite among SUV enthusiasts. However, one aspect that truly sets the Ford Edge apart is its impressive interior features. In this article, we will delve into the … Continued
When it comes to mid-size SUVs, the Ford Edge is a standout choice. With its sleek design, powerful performance and advanced technology it is a Ford Canada Vehicle favourite among SUV enthusiasts. However, one aspect that truly sets the Ford Edge apart is its impressive interior features. In this article, we will delve into the top 10 interior features of the Ford Edge that make it a luxurious and comfortable SUV for drivers and passengers in Sault Ste Marie and near Blind River, Ontario.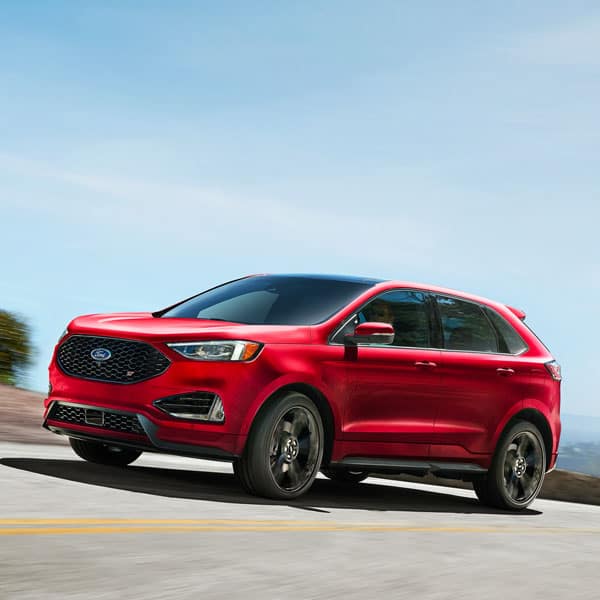 1. Spacious Cabin
A Roomy Interior for All Passengers
The Ford Edge offers a spacious cabin that can comfortably accommodate up to five passengers. Whether embarking on a long road trip or running errands around town, the ample legroom and headroom in front and rear seats ensure everyone can stretch out and relax.
2. Premium Leather Upholstery
Luxury and Comfort Combined
It comes equipped with premium leather upholstery, adding a touch of elegance to its interior. The supple leather seats provide a luxurious feel and offer exceptional comfort for short and long drives.
3. Panoramic Vista Roof
Bringing the Outdoors In
This crossover SUV features a panoramic vista roof that spans both the front and rear seats, allowing natural light to flood the cabin and providing a stunning view of the sky above. Whether you're enjoying a scenic drive or simply want to brighten up the interior, the panoramic vista roof adds an open and airy feel to the SUV.
4. Intelligent Climate Control
Personalized Comfort for Everyone
The Edge SUV has an intelligent climate control system that allows drivers and passengers to set their preferred temperature. With dual-zone automatic temperature control, everyone can enjoy personalized comfort, regardless of outside weather.
5. Advanced Infotainment System
Stay Connected on the Go
The Ford Edge features an advanced infotainment system that keeps you connected and entertained on the go. With an intuitive touchscreen display, you can easily access your favourite apps, make hands-free calls, and stream music seamlessly. The system also supports Apple CarPlay and Android Auto, allowing you to integrate your smartphone's features into the SUV's infotainment system.
6. Enhanced Sound System
Immersive Audio Experience
This Canadian Car offers an enhanced sound system with a premium audio experience. With available options such as the B&O Sound System by Bang & Olufsen, you can enjoy crystal-clear sound and immersive surround sound, making every drive a concert-like experience.
7. Wireless Charging Pad
Convenience at Your Fingertips
The Ford Canada Car is equipped with a wireless charging pad, allowing you to charge your compatible smartphone without cables. Simply place your device on the charging pad, and it will charge while you focus on the road ahead.
8. Intelligent Access with Push-Button Start
Seamless Entry and Ignition
You can say goodbye to fumbling for your keys. The intelligent access system allows you to unlock the doors and start the engine with just a touch of a button, making entering and starting your SUV effortless and convenient.
9. Smart Storage Solutions
Maximizing Space and Convenience
It offers clever storage solutions throughout the cabin, ensuring ample space to store your belongings. From the spacious center console to the cleverly designed door pockets, you'll find plenty of compartments to keep your essentials organized and within reach.
10. Advanced Safety Features
Peace of Mind on the Road
The Ford Edge has advanced safety features to keep you and your passengers safe. From the Ford Co-Pilot360™ suite of driver-assist technologies to features like blind-spot monitoring and lane-keeping assist and offers peace of mind and confidence behind the wheel.
FAQs
Is the Edge a mid-size SUV?
Yes, the Ford Edge is classified as a mid-size SUV, offering a balance between a larger SUV's spaciousness and a smaller vehicle's maneuverability.
What other SUVs does Ford offer?
Ford offers a range of SUVs, including the Ford Escape, Ford Explorer, and Ford Expedition. Each SUV has its unique features and caters to different preferences and needs.
Can I tow with the Ford Edge?
Yes, the Ford Edge is capable of towing, with a maximum towing capacity of up to 3,500 pounds when properly equipped, making it a versatile SUV for those who need to haul a trailer or other recreational equipment.
Conclusion
The Ford Edge is not just any SUV; it is a mid-size SUV that combines style, comfort, and functionality. With its spacious cabin, premium leather upholstery, panoramic vista roof, intelligent climate control, advanced infotainment system, enhanced sound system, wireless charging pad, intelligent access with push-button start, smart storage solutions, and advanced safety features, the Ford Edge offers a luxurious and comfortable driving experience. Whether embarking on a long road trip from Sault Ste Marie or running errands around town in Blind River, Ontario, the Ford Edge ensures that you and your passengers are always in the lap of luxury. So, if you're in the market for a mid-size SUV that doesn't compromise style and comfort, look no further than the Ford Edge.
Car Reviews at:
Edge Unveiled: All You Need to Know About the Ford Edge!
Ford Edge Engine, Towning Capacity & Vacation Trips
Step by Step to Update Ford Sync