Unveiling the Top 10 Exterior Features of the 2023 Ford Edge
The 2023 Ford Edge is an impressive mid-size SUV with a perfect blend of style, performance, and versatility. With its sleek design and cutting-edge features, the Ford Edge has become popular among SUV enthusiasts. In this article, we will delve into the top 10 exterior features of the 2023 Ford Edge that set it apart … Continued
The 2023 Ford Edge is an impressive mid-size SUV with a perfect blend of style, performance, and versatility. With its sleek design and cutting-edge features, the Ford Edge has become popular among SUV enthusiasts. In this article, we will delve into the top 10 exterior features of the 2023 Ford Edge that set it apart from other SUVs in its class. Let's dive in and explore what makes this SUV model truly remarkable.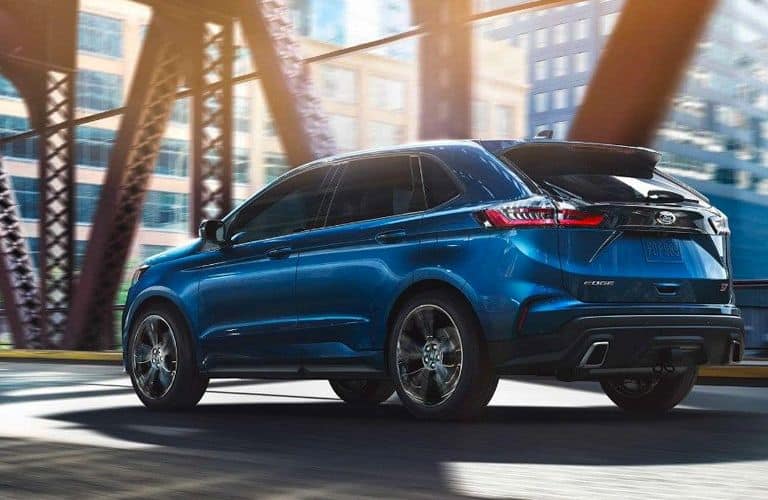 1. Bold and Stylish Exterior Design
The 2023 Ford Edge boasts a bold and stylish exterior design that catches the eye from every angle. Its refined lines and dynamic curves give it a modern, confident look that will turn heads wherever you go.
Striking LED Headlights and Taillights – One of the standout features of the Ford Edge's exterior design is its striking LED headlights and taillights. These not only enhance visibility but also add a touch of sophistication to the overall appearance of the SUV. The LED lighting technology offers better illumination and energy efficiency, making it a practical and stylish choice.
Aerodynamic Body Sculpting – The aerodynamic body sculpting of the 2023 Ford Edge is another feature that sets it apart. The carefully designed curves and contours help improve the SUV's overall efficiency by reducing drag and enhancing fuel economy. This design element adds to the visual appeal and contributes to a smoother and more enjoyable driving experience.
Sleek Roofline and Rear Spoiler – The sleek roofline and rear spoiler of the Ford Edge add to its sporty and athletic look and improve aerodynamics. These features help reduce wind resistance and enhance stability, especially at higher speeds. Additionally, the rear spoiler adds a touch of style and adds to the overall aesthetic appeal of the SUV.
2. Distinctive Grille Design
Chrome Accents and Signature Ford Logo – The 2023 Ford Edge features a distinctive grille design that further enhances its commanding presence on the road. The front grille is adorned with chrome accents and the iconic Ford logo, giving it a premium and unmistakable look.
Wide and Aggressive Grille – The wide and aggressive grille of the Ford Edge adds to its bold appearance and improves airflow, keeping the engine cool and ensuring optimal performance even in demanding driving conditions. The grille design is functional and adds a touch of sophistication to the SUV's overall design.
3. Premium Wheel Options
Eye-Catching Alloy Wheels – The 2023 Ford Edge offers a range of premium wheel options that perfectly complement its overall design. The eye-catching alloy wheels add a touch of elegance and sophistication to the SUV's exterior.
Variety of Sizes and Finishes – With various sizes and finishes to choose from, you can customize your Ford Edge to suit your personal style and preferences. Whether you prefer a sleek and sporty look or a more rugged and adventurous appearance, there is a wheel option available to enhance the overall aesthetic appeal of your SUV.
4. Panoramic Vista Roof
Expansive Glass Roof Panel – The 2023 Ford Edge has a panoramic vista roof that adds a sense of spaciousness and openness to the interior. This feature consists of an expansive glass roof panel that extends over the front and rear seats, allowing natural light to flood the cabin and creating an open-air driving experience.
Enjoy Natural Light and Open-Air Feel – The panoramic vista roof not only enhances the overall ambiance of the SUV but also provides passengers with stunning views of the surrounding scenery. Whether driving through the city or embarking on a scenic road trip, the panoramic vista roof adds extra comfort and enjoyment to your journey.
5. Power Liftgate
Convenient Hands-Free Operation – The 2023 Ford Edge has a power liftgate that makes loading and unloading cargo a breeze. The hands-free operation allows you to open and close the liftgate with a simple wave of your foot under the rear bumper, perfect for when your hands are full.
Ample Cargo Space – The power liftgate adds convenience to your daily routine and enhances the SUV's functionality. With ample cargo space, you can easily store and transport all your belongings, making the Ford Edge an ideal choice for daily commutes and weekend getaways.
6. Stylish Rear Diffuser
Enhances Aerodynamics – The stylish rear diffuser of the 2023 Ford Edge adds to its visual appeal and enhances aerodynamics. This feature helps improve airflow and reduces turbulence, resulting in better fuel efficiency and overall performance.
Sporty and Aggressive Look – Moreover, the rear diffuser gives the Ford Edge a sporty and aggressive look, further emphasizing its athletic nature. This design element adds a touch of dynamism to the SUV's exterior, setting it apart from its competitors in the mid-size SUV segment.
7. Integrated Dual Exhaust Tips
Enhances Performance and SoundThe 2023 Ford Edge comes with integrated dual exhaust tips that enhance performance and add a sporty touch to the SUV's exterior. The dual exhaust system improves exhaust flow, allowing the engine to breathe more efficiently, resulting in better performance.
Adds a Sporty Touch – Additionally, the integrated dual exhaust tips create a more pronounced exhaust note, adding to the exhilaration and excitement of driving the Ford Edge. This feature enhances the SUV's athletic character and adds a touch of sportiness to its overall design.
8. High-Intensity Discharge (HID) Headlights
Superior Visibility – The 2023 Ford Edge has high-intensity discharge (HID) headlights that provide superior visibility in various driving conditions. These headlights emit a bright and focused beam of light, ensuring optimal illumination of the road ahead.
Sleek and Modern Design – In addition to their functionality, the HID headlights also contribute to the sleek and modern design of the Ford Edge. The clean lines and sharp angles of the headlight housings add to the SUV's overall aesthetic appeal, making it a standout in its class.
9. Power-Folding Side Mirrors
Convenient and Practical – The power-folding side mirrors of the 2023 Ford Edge add convenience and practicality to your daily driving experience. With just the push of a button, you can fold and unfold the side mirrors, making parking and maneuvering in tight spaces easier.
Enhanced Safety – Moreover, the power-folding side mirrors enhance safety by reducing the risk of damage in crowded parking lots or narrow streets. This feature also adds a touch of sophistication to the SUV's exterior, emphasizing its attention to detail and user-friendly design.
10. Active Grille Shutters
Improved Fuel Efficiency – The 2023 Ford Edge has active grille shutters contributing to improved fuel efficiency and optimal engine cooling. These shutters automatically open and close to regulate airflow, reducing drag and improving aerodynamics.
Optimal Engine Cooling – By actively managing the airflow, the active grille shutters help the Ford Edge achieve better fuel economy, making it an eco-friendly choice in the mid-size SUV segment. This feature also ensures that the engine remains at an optimal temperature, enhancing performance and reliability.
FAQs:
Is the 2023 Ford Edge a mid-size SUV?
Yes, the 2023 Ford Edge falls into the mid-size SUV category.
What are some other popular mid-size SUV models?
Some other popular mid-size SUV models include the Toyota Highlander, Honda Pilot, and Chevrolet Traverse.
Does the 2023 Ford Edge offer advanced safety features?
Yes, the 2023 Ford Edge has a range of advanced safety features, including blind-spot monitoring, lane-keeping assist, and automatic emergency braking.
Conclusion
The 2023 Ford Edge is a remarkable mid-size SUV that stands out from the crowd with its impressive exterior features. From its bold and stylish design to its innovative technology, the Ford Edge offers a winning combination of style, performance, and functionality. Whether looking for a spacious and versatile SUV for your daily commute or a reliable vehicle for your next adventure, the 2023 Ford Edge is a top choice in the mid-size SUV segment. Experience the exceptional exterior features of the 2023 Ford Edge and elevate your driving experience to new heights.
Ford Reviews at:
Edge Unveiled: All You Need to Know About the Ford Edge!
Ford Edge Engine, Towning Capacity & Vacation Trips
Step by Step to Update Ford Sync